Note: This article may contain commentary or the author's opinion.
As the liberal establishment continues to quake in fear over free-speech advocate Elon Musk's Twitter take-over, some of the world's leading liberal powers-that-be have joined forces in a campaign to encourage companies to boycott the platform.
26 NGOs have signed the letter which expresses the group's bogus concern that Musk's leadership of the social media giant could, "further toxify our information ecosystem and be a direct threat to public safety, especially among those already most vulnerable and marginalized".  
The letter went on to attempt to condemn companies who choose to continue to advertise on Twitter, warning them that they "'risk association with a platform amplifying hate, extremism, health misinformation, and conspiracy theorists," although there is no evidence to suggest the championing of peaceful free speech from all political backgrounds, religions, creeds and races will lead to any of these things.
"Your ad dollars can either fund Musk's vanity project or hold him to account. We call on you to demand Musk uphold these basic standards of community trust and safety, and to pull your advertising spending from Twitter if they are not," continues the desperate propaganda.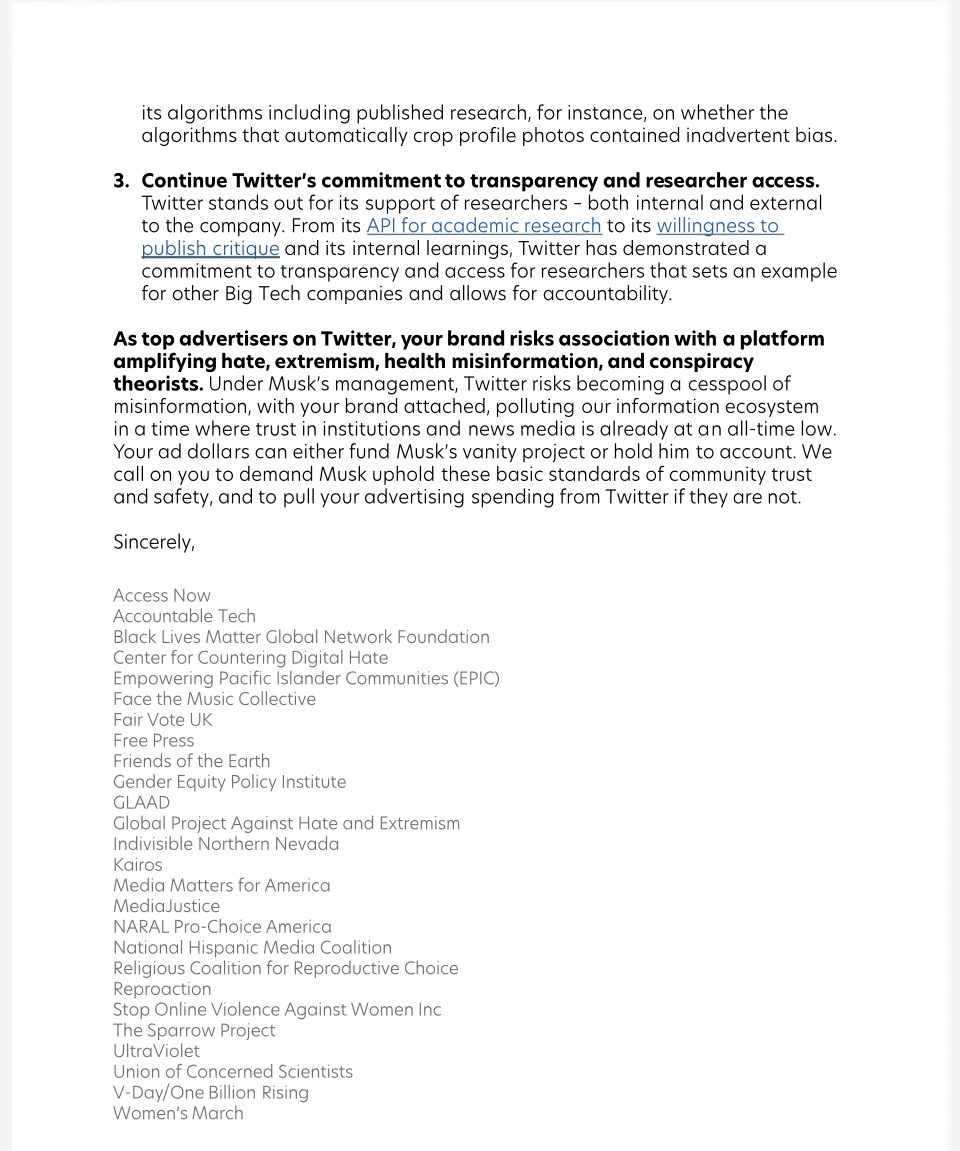 In response to the letter, Musk posted: "Who funds these organizations that want to control your access to information? Let's investigate…
"Sunlight is the best disinfectant," he added.
"*" indicates required fields
Sunlight is the best disinfectant

— Elon Musk (@elonmusk) May 3, 2022
According to journalistic research conducted by the Daily Mail in response to Musk's call for the exposure, the letter is headed with the logos and names of numerous left-wing organizations, including some with close ties to the Democrat party.
The list of companies includes the following:
Accountable Tech: a Washington DC based organization whose co-founder Nicole Gill is a political campaigner and founder of the 2017 Tax March and is also led by Jesse Lehrich – a former spokesman for Hilary Clinton's campaign and nephew of David Axelrod, senior advisor to Obama.
Media Matters For America: Its chairman David Brock was once described by Politico as "the Clinton enforcer, who raised tens of millions of dollars and created a far-reaching web of outside groups to push her presidential candidacy", and the "Democrats attack dog".
Ultraviolet: "A powerful and rapidly growing community of people mobilized to fight sexism and create a more inclusive world that accurately represents all women, from politics and government to media and pop culture," says its website.
It's also supported by billionaire Hyatt hotel chain owner Nicholas Pritzker who founded the Libra Foundation to "support a world where communities of color thrive".
 Center For Countering Digital Hate: Run by Imran Ahmed, a former senior advisor to the British left-wig Labour Party.
Access Now: Initially set up to combat election fraud and report on human rights abuses, the organization now has global offices and has received large sums from the governments of Denmark, Germany, the Netherlands and Canada.
They've also received significant funding from George Soros' Open Society Foundations.
So, there you have it. The left-wing establishment is terrified that their comfortable control over social media platforms is finally coming to an end. It makes you wonder what they find so terrifying about political fairness, free speech and open discussion.