Note: This article may contain commentary or the author's opinion.
Chris Worrell, a Jan. 6 prisoner who was released by a federal judge after being denied cancer treatment for eight months,  is now "in dire straights," according to his girlfriend.
Worrell was arrested and charged on March 10, 2021, with offenses related to his presence at the US Capitol On January 6, 2021. 
According to the March 10, 2021, criminal complaint filed against him,  Worrell is charged with knowingly entering or remaining in a restricted building or grounds, engaging in disorderly or disruptive conduct in a restricted building, and violent entry and disorderly conduct on Capitol grounds.
.@RonPaulInstitut: RT @RonPaul: Jan. 6 Prisoner Who Was Denied Cancer Treatment Now 'In Dire Straits'

Watch the whole show here: https://t.co/7KqvLTJNUN pic.twitter.com/JXyd743gZl

— Libertarian on Principle (@LPandMighty) June 15, 2022
There is no evidence that Worrell ever entered the Capitol building, but according to the statement of facts, the FBI received a tip that alleged Worrell participated in the breach. According to the statement of facts, the FBI received a tip alleging that Worrell had participated in the breach at the Capitol, but there is no evidence that Worrell entered the Capitol building.
Trish Priller, Worrell's girlfriend, was with him in Washington that day. Ms. Priller shared her story with the Epoch Times where she explains what happened on January 6, 2021, and all of the disturbing events that have transpired in the 17 months since.
"We were just there," Priller said. "We were there with family members and friends. We had some ladies in their 70s that were with us. The ladies wanted to go down and hear President Trump speak at the ellipse and I had never been to anything like that so I went with them."
"*" indicates required fields
She went on to explain that there was a period of time the two were separated, and due to the cell towers being down that day in the area, they didn't have much contact for the seven hours that they were separated. Two months later, while Worrell went on a fishing trip to Florida with friends, the FBI showed up at the home where Priller and Worrell live and held her at gunpoint. Worrell was instructed to return home, where upon his arrival, was arrested and taken to Fort Meyers, Florida.
Worrell has a rare form of non-Hodgkin lymphoma, a type of blood cancer, and had been managing the illness since he was diagnosed in 2007. He remained in stage one of the illness for several years.
Hearing for Chris Worrell, arrested in March and detained since for offenses related to January 6. He's been in DC Gulag for months; Worrell has non-Hodgkin's lymphoma and has not received proper treatment. Judge Lamberth, who denied bond for Worrell…https://t.co/YI3MDdtSmV

— Julie Kelly 🇺🇸 (@julie_kelly2) October 13, 2021
Worrell had initially been granted pretrial release on bond, but a second judge ordered a stay on his release, and Worrell was instead transferred to Charlotte County, Florida, and was held there for three weeks, during which time, according to his girlfriend, had been denied his cancer medication. 
"They wouldn't allow the doctor to bring them in," Priller said. "They said I should go get them, but you can't do that. You can't bring medicines into a prison. They won't let you do that. So our doctor wrote a prescription and sent it to them and they didn't process it. It took almost the whole three weeks. At that point he was transferred to Oklahoma by Con-Air, I guess, where he stayed for another couple of days, still with no meds."
When Worrell was finally released from prison, he hadn't had any medications for eight months. At that point, he had gone from stage one cancer to stage three.
"Chris just finished five rounds of chemotherapy and has a follow-up appointment in July for further diagnostic tests," Priller said, also noting that some of his cancer symptoms have returned. "His medical condition has deteriorated dramatically. His teeth, his skin, so many issues that could have been prevented. Chris is in dire straights."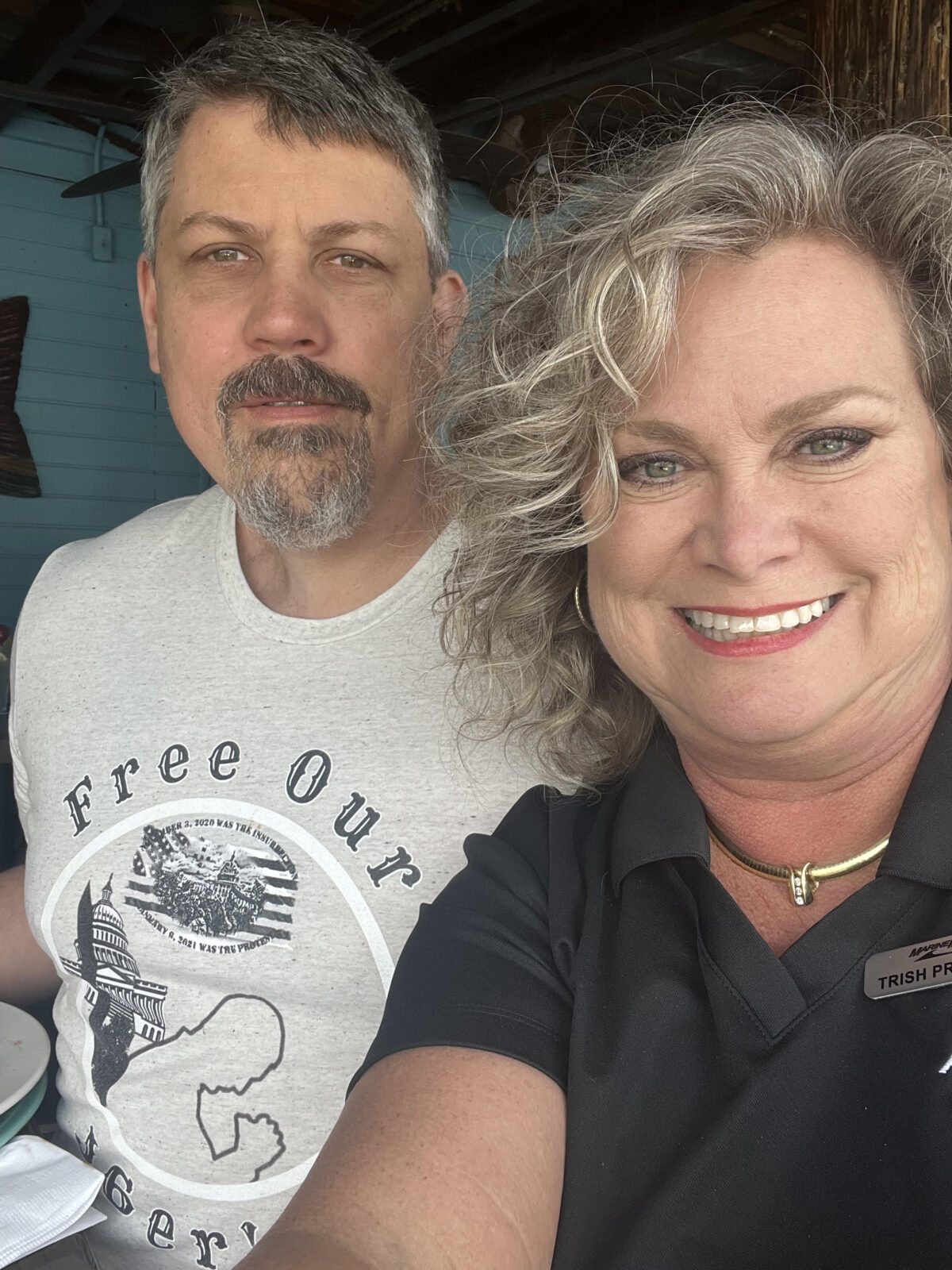 Chris Worrell, a Jan. 6 defendant who was released from pretrial detention to undergo cancer treatment, is with his girlfriend Trish Priller. (Courtesy of Trish Priller)